Classics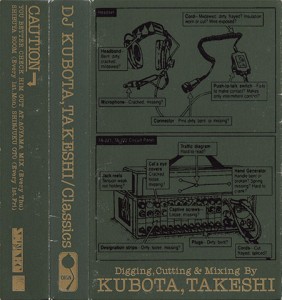 Classics side-A / Mixed by クボタタケシ(KUBOTA,TAKESHI)
01.LIVE / SERI ISHIKAWA
02.SPINNING WHEEL / KIYOHIKO OZAKI
03.SPINNING WHEEL / HIDEKI SAIJO
04.YOU CAN'T HURRY LOVE / THE SUPREMES
05.JUANA CANDELA / GEORGE RENAN AND HIS MANHATTAN STARS
06.WE WERE THERE / JORGE SANTANA
07.WHO COMES TO BOOGIE / LITTLE BENNY AND THE MASTERS
08.LET'S GET SMALL / TROUBLE FUNK
09.CAN YOU FEEL IT / FISH
10.THIS TRAIN / EDMUND ROS AND HIS ORCHESTRA
11.SKIFFEL HOP / GEORGE MARTIN AND HIS ORCH.
12.THE ROCKIN' GYPSY / RAGTIME WRANGLERS
13.BIG NOISE FROM WINNETKA / SPAGHETTI HEAD
14.TRAINNG MONTAGE / LALO SCHIFRIN
15.THE FIVE PENNIES SAINTS / DANNY KAYE AND LOUIS ARM STRONG
16.I'M IN THE MOOD FOR DANCING / TONY EVANS
17.LITTLE GREEN BAG / GEORGE BAKER
18.DO YOU LIKE THE SAMBA / EDMUNDO ROS AND HIS ORCH.
19.HAFANANA / AFRIC SIMONE
Classics side-B / Mixed by クボタタケシ(KUBOTA,TAKESHI)
01.AME NO SUSPENSE / TAKAYUKI INOUE AND KENNY WOOD ORCH.
02.TAKE FIVE / DAVE BRUBECK QUARTET
03.I PUT A SPELL ON YOU / SOREAMIN' JAY HAWKINS
04.LOVING FEELINS / RICHIE MACK
05.WHAT A WONDERFUL WORLD / PAT SASHMO
06.LA VIE EN R08E (SUPER RBYTHMMLX 1983) / MARTINIQIJE
07.ROCK YOUR BABY / TOMATOS
08.COPAOABANA / THE BAD STREET BOYS
09.GIVE IT UP OR TURNIT A LOOSE (LIVE) / JAMES BROWN
10.I LIKE MARIJUANA / DAVID PEEL AND THE LOWER EAST SIDE
11.I CAN'T TURN YOU LOOSE / THE KAZOOS BROTHERS
12.OB-LA-DI OB-LA-DA / THE BEDROCKS
13.1,2 (LITTLE BITCH) -DEMO VERSION- / THE SPEOIALS
14.MY DEFINITION OF A BOOMBASTIC JAZZ STYLE (SOUL BOSSANOVA MIX) / DREAM WARRIORS
15.MAMA-OOM-MOW-MOW / THE RIVINGTONS
16.OARAVAN / PRETTY PURDIE
17.ON THE WAY TO L.A. / WE THE PEOPLE
18.SEVEN GUNS ALIVE / BABA BROOKS
Classics 2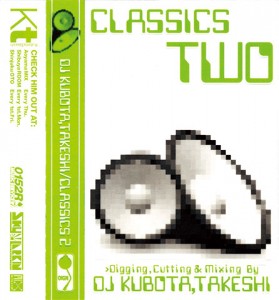 Classics 2 side-A / Mixed by クボタタケシ(KUBOTA,TAKESHI)
01.LIVE / TOM JONES
02.BYE BYE LOVE / DAMITA JO
03.COCONUT WOMAN / VILMA ALI
04.THE SAMBA SONG / FREE HOT LUNCH!
05.GERTAUDE / JERRY JEFF WALKER
06.DON'T ASK ME WHY / BIILLY JOEL
07.MACAQUE SUR MON DOS / BEAUSOLEIL
08.VUELA PALOMA / STEVE JORDAN
09.LA FIESTA / UNO
10.WHAT KIND OF ANIMAL AM I? / HORACE SILVER
11.ADVENTURES OF BAER RABBIT AND TAR BABY / ROY BUCHANAN
12.LAPINHA / PAPAYA
13.YAKITY YAK / STEVE JORDAN
14.BIG HOUSTON / LINK DAVIS
15.TU QUE FUISTE / DANNY YANEZ
16.RUNNING BACK AND FORTH / EDWIN STARR
17.IT'S A SHAME / EPO
18.DANCING QUEEN / P
Classics 2 side-B / Mixed by クボタタケシ(KUBOTA,TAKESHI)
01.C'EST LE VENT, BETTY / GABRIEL YARED
02.NOTHING'S CLEAR / TRICKY
03.BANANA STARK / MIGHTY TWO
04.AGROVATING VERSION / JAH STITCH AND THE AGROVATORS
05.PART TWO DAB / MIGHTY TWO
06.SHOAT SHORTS / ROYAL TEENS
07.MARTIAN HOP / THE RAN-DELLS
08.CARA-LIN / THE STRANGELOVES
09.PARTY GIRL / BERNADETTE CARROLL
10.SAUVITT / TOMMY MCCOOK AND THE SKATALITES
11.HIGH LIFE / MOOEAN ROMANCE
12.WRONG'EM BOYO / THE CLASH
13.HAPPY WONDER / BRAVE COMBO
14.HAPPY MERENGUE / IAVING FIELDS
15.EL DIABLO SKA / JUMP WITH JOEY
16.THE CLAPPING SONG(CLAP PAT CLAP SLAP) / SHIRLEY ELLS
17.??? / ???
18.SUCH A NIGHT / ELVIS PRESLEY
19.TIJUANA TOAD / THE ARTICLES
20.NUT ROCKER / B. BUMBLE & THE STINGER
Classics 3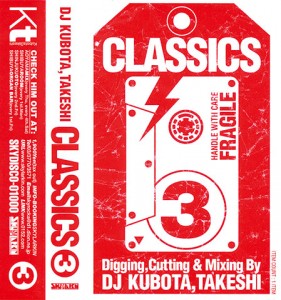 Classics 3 side-A / Mixed by クボタタケシ(KUBOTA,TAKESHI)
01.CHI-KI CHI-KI SAMMY / SAMMY DAVIS JR.
02.BAD HABITS / BILLY FIELD
03.GOOD THING (PRINCE PAUL REMIX) / FINE YOUNG CANNIBALS
04.HIT THE ROAD, JACK / BUSTER POINDEXTER
05.IT DON'T MEAN A THING (IF IT AIN'T GOT THAT SWING) / MEL TORM'E
06.ST. THOMAS / PAPAYA
07.JOE POTATO / LINGO
08.LOVESICK (UP BEAT MIX) / GANG STARR
09.COOL JERK / THE CAPITALS
10.UPTIGHT / THE TOKYO HAPPY COATS
11.MY ONE AND ONLY, JIMMY BOY / THE GIRLFRIENDS
12.YOUNG / RONNY & THE DAYTONAS
13.HARPER DOES IT BETTER / JHONNY MANDEL
14.SASSY / NENEH CHERRY
15.PAPA MI HENTE / AWESOME2
16.BEAT OF PHARAOH / YANN TOMITA
17.EDUTAINMENT / BDP
18.THESE BOOTS ARE MADE FOR WALKING / THE SHILLELAGH SISTERS
19.SHAKE YOUR BODY DOWN TO THE GROUND / REBIRTH BRASS BAND
20.THEME FROM RIO / MONROE'S
Classics 3 side-B / Mixed by クボタタケシ(KUBOTA,TAKESHI)
01.ANARCHY IN THE U.K. / ALBERTO Y LOST TRIOS PARANOIAS
02.I WON'T STAND IN YOUR WAY / STRAY CATS
03.TWO SLEEPY PEOPLE / GEORGIE FAME & ANNIE ROSS
04.SAN JOSE / FRANKIE GOES TO HOLLYWOOD
05.AMOR PROIBIDO / PAURO MOURA
06.PORTA 'E PRABATER / JAIR RODRIGUES
07.MARIA PORTUGAL / PAULO DINIZ
08.OH I LOVE YOU SO / PRESTON SMITH
09.BEST YEARS OF OUR LIVES / MODERN ROMANCE
10.CAN'T LET YOU LOOSE (BLOCK PARTY MIX) / LIVEXPRESS FEATURING TONYA GIPSON
11.HAPPINESS IS A WARM PUSSIN / BORIS GARDINER HAPPENING
12.ROCKAMBO BABY / PEREZ PRADO & HIS ORCH.
13.HIP RUB / JIVINNG JUNIORS
14.CLAP YOUR HANDS / ROCKY SHARPE & THE REPLAYS
15.TAKE ME AS YOU FIND ME / SUSAN CHRISTIE
16.YAKETY SAX / BOOTS RANDOLPH
17.IT'S NOW OR NEVER / P.M.
18.HOME / HENRY HALL & THE GLENEAGLES HOTEL BAND
Classics 4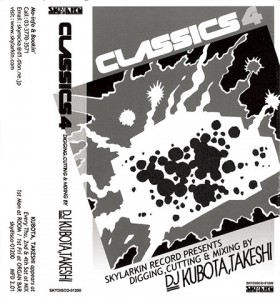 Classics 4 side-A / Mixed by クボタタケシ(KUBOTA,TAKESHI)
01.THE LUCY THEME / BONGO-LOGIC
02.CUIDADO COM O BULLDOG / JORGE BEN
03.PANIE, CO PAN / BEMIBEK
04.PIGEON SONG / ANNE MORRE
05.HANDBALL / DANIEL VALDEZ
06.IT DIDN'T ALL COME TRUE / BEN SIDRAN
07.I'VE GOT YOU UNDER MY SKIN / LOU RAWLS & BIZ MARKLE
08.WHISPERING / THE HEW VAUDEVLLLE BAND
09.CRAZIES / LEW LONDON
10.A QUOI TU JOUES / ZANINI
11.CAPIM BARBA DE BODE / TOM E DITO
12.NA CASCA DO OVO / NERINO SILVA
13.LA VOU EU…! / 4 AZES E 1 CORINGA
14.TA ENGROSSANDO / JAIR RODRIGUES
15.VOU DEITAR E ROLAR / ELIS REGINA
16.ME DEIXA EM PAZ / LENY ANDRADE
17.BRAZIL / RITA REYS
18.SOUTH OF THE BORDER / THE ROTO ROOTER GOOD TIME CHRISTMAS BAND
19.WE HAVE ALL THE TIME IN THE WORLD / FUN LOVIN' CRIMINALS
Classics 4 side-B / Mixed by クボタタケシ(KUBOTA,TAKESHI)
01.MOON RIVER / NAN VERNON
02.MISSAO / LULI
03.MISS BIKINI / MARCIA
04.TIME AFTER TIME / MYRNA HAGUE
05.DE MANHA / WLLSON SIMONAL
06.TU ME DONNES ENVIE / FLORENCE MICHEL
07.TONIGHT RICKY / RACHEL SWEET
08.QUINTON'S ON THE WAY / QUINTON FEAT.JAZZYFATNASTEES
09.HEADACHES & WOES / ACEYALONE
10.SIXTEEN TONS / OSCAR BROWN, JR
11.DOO-DOO / MAJOR WORRIES
12.IT'S GOOD FOR YOU / TOT TAYLOR
13.AFTER PIZZA (BRAZIL VERSION) / LA DOUCE
14.BATUCADA / JHO ARCHER
15.FUNKY NASSAU / WESS & THE AIREDALES
16.VOULEZ-VOUS CHA CHA? / ALSERTWITH THE SUGARHILL GANG
17.MARIANNE / THE ROTO ROOTER GOOD TIME CHRISTMAS BAND
18.CHINATOWN, MY CHINATOWN / THE ORIGINAL WASHBOARD BAND
19.THEME FROM "MURDER AT THE GALLOP" / RON GOODWIN & HIS ORCH.
20.IT HAD TO BE YOU / HARRY CONNICK, JR.